Whenever you plan a party where the majority of your guests will be little ones, party rental equipment safety should always be kept as a top priority. It is very important to know how to operate any party rental equipment you are thinking of renting such as bounce houses, mechanical bulls, photo booths, rock climbing walls rentals and even furniture such as tents, tables and chairs.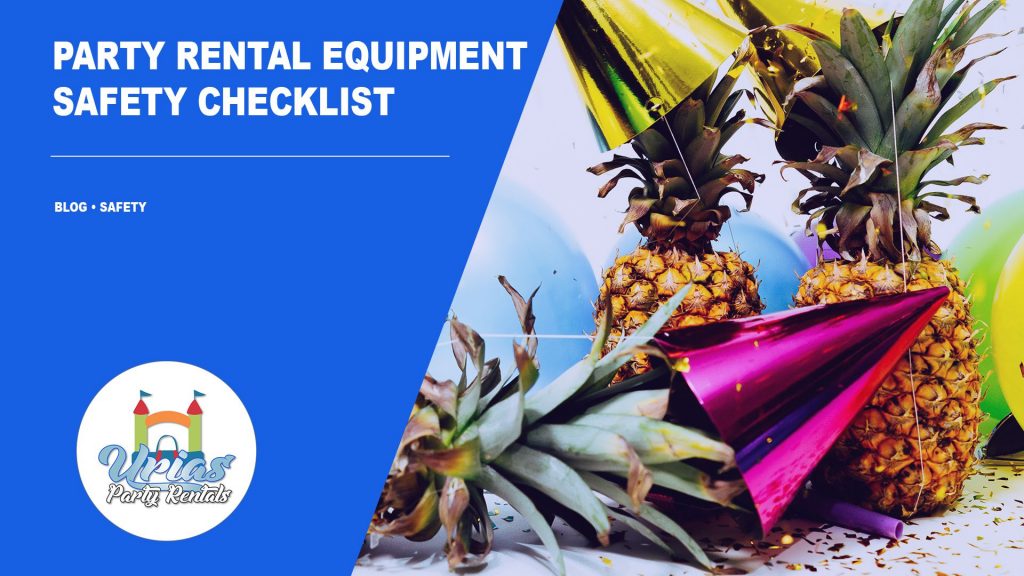 General Party Rental Equipment Safety Tips
The most important thing to keep in mind is that all party rental equipment should never be used without adult supervision. Any inflatable, for example, can suddenly lose power creating the possibility of trapping children and putting their health in danger. Having an adult around to quickly act and pull any children to safety is a big relief for your guests.
It is always a good idea to always have a fire extinguisher around in case of fire. At Urias Party Rentals, we pride ourselves in offering well maintained rental equipment but a faulty extension cord, or an overheated blower can become a possible fire hazard. It is always best to be prepared and not need it, rather than to need it and not be prepared.
Always look for the firmest and most even space you can find to place your party equipment rental. When it comes to party rental safety, you want to make sure everyone has a good time, not just the birthday boy or girl. Making sure your inflatable is on even ground will lessen the probability of it tipping over and possibly causing injury to your little guests.
It is important to know what the capacity of your party rental equipment is. For inflatable bouncers, for example, you may want to have an adult supervise the number of kids that go in at the same time. Another recommendation to keep your special event safe is to only allow similar sized children groups. This way smaller children won't get hurt by bigger kids accidentally.
Make sure your guests remove any non-essential belongings such as car keys, cell phones, long necklaces, shoes and other dangerous accessories before using any party rental equipment. Rental safety should be top priority and should be exercised by guests of all sizes.
Place any blower motors and extension cables out of reach of guests. The last thing you need is an accidental punch spill on your inflatable bounce house motor which could possibly ruin the party!
Additional Safety Tips for Bounce House Rentals
Plan your party for all of your guests. This includes making sure you rent the correct sized jumper to accommodate for the number of guests this way ensuring maximum fun. Keep any special needs guests in mind too!
Mechanical Bull Rental
A mechanical bull should only be operated by a trained adult! Be aware that there are height and weight requirements which should not be ignored to ensure your guests' safety.
Only one person should be allowed to ride at a time and should have no previous serious health conditions and should not be pregnant. The rider should also remove any non essential accessories and shoes.
Furniture Rental
Party rental companies such as Urias Party Rentals always try to offer the best maintained equipment at the best possible price. This is only possible when our guests make the best use of the furniture they rent. If the furniture such as tents, tables and chairs return just as how we left them, this will keep the maintenance cost down which means we can keep guaranteeing the best prices for event rentals in the San Bernardino area.
Party rental equipment safety benefits everyone from your guests, you (the party planner) to us, the party rental equipment provider. We hope this checklist will help you thoroughly enjoy your next party!